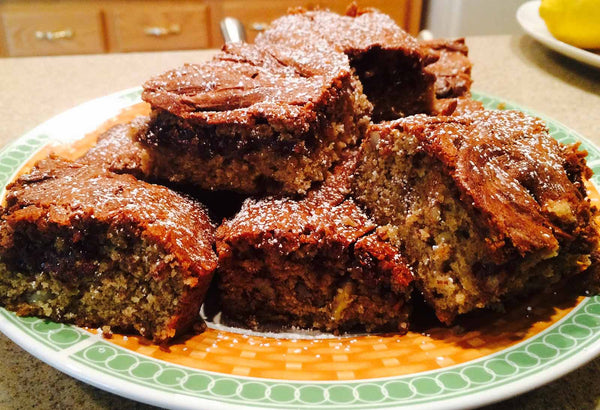 Nutella Banana Bread Blondies
Cooking with Chef Catherine Price in creating Nutella Banana Bread Blondies.
Yield: 16 Blondies
Cook Time: 35 Minutes
Total Time: 50 Minutes
---
Ingredients
1 1/4 cups all-purpose flour
1/2 teaspoon salt
1/4 teaspoon baking soda
1/2 cup Lidrivio olive oil
3/4 cup packed light brown sugar
1 large egg
1/2 cup mashed banana
1/2 teaspoon vanilla extract
1/4 teaspoon almond extract
1/4 cup Nutella (or Hazelnut spread)
1/2 cup coarsely chopped pecans
Directions
---
Step 1
Preheat oven to 350°.
Step 2
In a large bowl, combine the brown sugar, oil, mashed banana, vanilla and almond extract until blended for about 3 minutes.
Step 3
Add in egg and mix until combined.
Step 4
In a separate bowl combine the flour, baking soda, salt and pecans.
Step 5
Once combined add to brown sugar mixture and mix for 2 minutes.
Step 6
Spread into a greased 9-in. x 9-in. baking pan. Drop spoonfuls of Nutella on top of the batter.
Step 7
Using a knife, swirl the Nutella into the batter to create a marble effect.
Step 8
Bake at 350° for 30-35 minutes or until a toothpick inserted near the center comes out clean.
Step 9
Cool on wire rack. Cut into bars.
---
Chef Catherine Price Bio
Catherine Price, sales and operations director of IPEC Events, has more than 14 years of experience in sales and management. Price, who received Forbes Five Star Training, has an extensive background in the restaurant and entertainment industries.
Prior to joining IPEC Events, Price managed day-to-day operations, supervised personnel and monitored budgets as general manager at Anthony's Prime Steak and Seafood Restaurant at M Resort Spa and Casino. In addition, she has held leadership roles at Veloce Cibo Restaurant, Augustus Café, Carnival World Buffet and Village Seafood Buffet. Price was also general manager at Studio B Show Kitchen Buffet at M Resort and played a key role in the restaurant's opening.
Previously, Price received her B.S in marketing from Johnson & Wales University and her Associates in Pastry Arts.